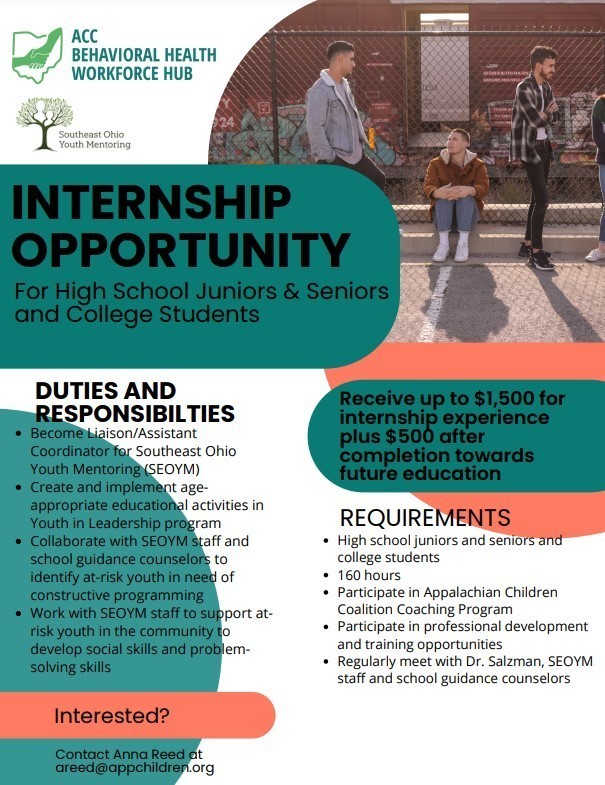 Financial Incentives Proposal Plan:
High School Internship Program
Background:
What is Behavioral Health?
Behavioral health is a broad branch of healthcare specifically focused on social, emotional, and mental well-being. This professional field often includes working with individuals who struggle with mental illness, behavioral problems, or unhealthy lifestyle habits. Behavioral health encompasses many areas of need and various professions with many career pathways and opportunities.
Why Behavioral Health?
Choosing a career in Mental and Behavioral Health allows you to positively impact individuals' lives and the overall health and well-being of communities. The Appalachian Ohio region needs behavioral health professionals to ensure that children and families have access to the care and support they need in school, at home, and in their communities. Behavioral Health professionals working in Appalachian Ohio are able to address the current challenges facing children and families in the region.
What is the Appalachian Children Coalition?
The Appalachian Children Coalition (ACC) is an alliance of behavioral health, education, and social service professionals from the Appalachian region seeking public and private solutions to our region's most acute needs. Because every child deserves equal access to support services to help them grow into happy, productive adults. Our mission is to improve the health and well-being of our region's children. Through collective advocacy and strategic investments, we aim for a future where every child has access to the care that they require at home, in school, and in their communities. Utilizing research and best practice, the ACC aspires to be a servant to those who serve children by building awareness, advocating for change, generating resources, and building a culture of collaboration across our communities.
Purpose:
The ACC created the ACC Behavioral Health Workforce Hubto increase the behavioral health workforce in Appalachia Ohio and to improve the quality of life for our region's kids. Through education, collaboration, and innovation, we work to drive interest in mental and behavioral health careers. The Hub also works to improve the recruitment and retention of professionals and paraprofessionals. Our services are available to mental and behavioral health providers, healthcare organizations, schools, and agencies to address their workforce needs.
Proposed funding model
The ACC Behavioral Health Workforce Hub will offer $1,500 to support 160 hours working in the field. Upon successful completion of the semester, applicants will receive $500 to be used for their post-high school graduation education or work experience needs.
Requirements:
In order to qualify for the incentive program, candidates must:
Be recommended by their school counselor or community organization
Be a high school junior or senior
Plan to pursue a career in a behavioral health field
Commit to and participate in the ACC Job Coaching program
Complete internship placement requirements with one of the ACC's partners or affiliates
Interested? Please contact Anna Reed: