The gate for tonight's girls basketball tournament against Eastern Pike will open at 6:00pm with the game starting at 7pm. Remember, tickets must be purchased online through the OHSAA. Tickets will not be sold at the gate. We hope to see you there!

Eastern Local sophomores participating in The Ohio State University Student Leadership Research Collaborative need alumni help to gather data for their action research project. To participate, please click on the link to take a short survey.
https://forms.gle/znRQm1fgFgKGfz3A9

There was a med flight at the school today for an individual. This was an isolated incident and school will continue as normal.
Kindness is in the air at Eastern! Happy Valentines Day! Thank you to Mr Fogle's art class for the wonderful art work!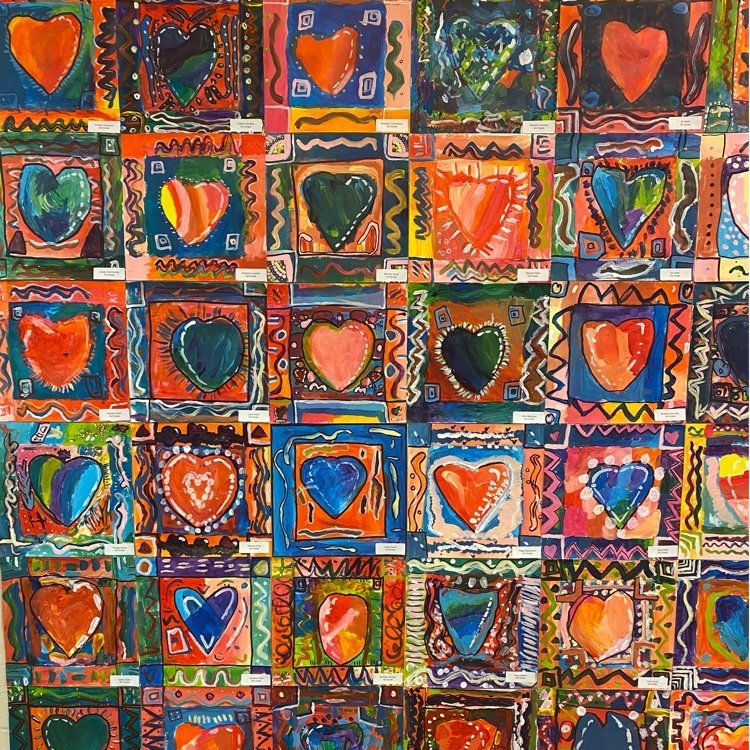 The OHSAA ticket window for girls basketball is open! Don't forget that the Lady Eagles take on Eastern Pike this Wednesday (2/15/23) at home with a 7pm start. Tickets can be purchased through the link below. Remember, due to this being a tournament event, no staff or Eastern students are free.
https://www.ohsaa.org/tickets

Important PEBT Benefits information is located on the website under Departments/Cafeteria.


Bus 24 is running about 15 minutes late this morning Wednesday February 1st.

Eastern Local Schools will be closed today Tuesday January 31st

Joe Barnhart's bus 24 will not be running all of its route today. If you have questions please contact the school.

Visit the High School Guidance Page on the website under 7-12 guidance. On the bottom right hand portion of the page are links to multiple scholarships available for Eastern Seniors. Please get on these applications as soon as possible. If you have any questions reach out to Mrs. Roush at
sroush@easternlocal.net
or 740-985-3329.

This is a reminder that the EHS freshmen boys basketball team has a HOME game this evening at 6pm against Marietta. Hope to see many of you there!

Good morning due to high water in the area overnight Eastern Local buses will not run the following roads this morning. Scout Camp Rd, and Follrod Road from Alfred to Cherry Ridge Rd.

This Thursday Eastern Local is hosting Parent Teacher Conferences from 3:30-6:30. If you would like to schedule a conference with your students teacher please call the office. Grade cards were passed out last Friday, and are available on Infinite Campus as well. If you need help logging in please reach out. That evening there is also a College Credit Plus meeting in the High School, and girls basketball in the High School and Elementary Gym. We hope to see you there.
There will be a College Credit Plus Informational meeting on Thursday, January 12th at 6:00 pm in the High School cafeteria for all students in grades 6 through 11 that are interested in taking CCP classes next school year (2023-24) and are not currently enrolled in College Credit Plus this school year.   It is mandatory for the student and at least one parent to attend to be qualified.  College representatives from Washington State Community College, University of Rio Grande, Hocking College and Ohio University will be present to answer any questions. Hope to see you there.

Eastern Local Schools will be on a 2hour delay Monday January 9.

The Eastern vs. Meigs Basketball game this evening will feature a 5pm freshmen start. The doors will open for spectators at 4:00pm. Tickets are $5 unless you are an Eastern student or pass holder. We hope to see you there! - The Eastern Local Athletics Office

We also have a couple more additions to road closings this morning. Water is also over on Newhope Road and Texas Road along with short Sumner. . Eastern buses will only travel portions of these roads where turnarounds are available . Again, any student who is not picked up by a school bus today on these particular roads will be excused due to Highwater..
Due to high water this morning at different areas in the Eastern Local School District school buses will not run the following roads: Scout Camp West Shade, Mount Olive at Keno, Follrod Road in Alfred, Locust Grove and East Shade at Keno. Eastern buses will bypass water on 248 at Buckley Farms by utilizing Lickskillet Road. Any child who is absent from school today due to buses not running their particular route will be excused. Thank you for your cooperation..

With the return to school from Winter Break around the corner, here is a list of our updated Eastern Basketball schedules for Varsity boys, girls, and JH girls at this time. All changes are highlighted. Unless a particular time is labeled by a game, all JH/JV events begin at 6pm. Freshmen games before JV will begin at 5pm. Due to many girls opponents only having a combined JH team, our JH girls will open for our Varsity girls on the following dates in our/opponent's HS gym: Jan. 19 @ Southern 6pm Jan. 26 vs Trimble 6pm Jan. 30 @ South Gallia 6pm Any additional schedule changes we encounter this season will be promptly shared in this manner.