Attention Medicaid Members! Don't risk losing your health coverage. As of April 2023, Medicaid will start sending out renewal packets. You are required to complete this information to renew your current Medicaid eligibility or transition to other coverage if you are no longer eligible for Medicaid. Make sure your address and email are up to date and current with your County Department of Jobs and Family Services (CDJFS). Renewal Packets going to the wrong address will result in the termination of Medicaid coverage. Here are ways to update your contact information: Call 1-844-640-6446 Monday through Friday 8 am to 4pm. Access your existing Ohio Benefits Self-Service Portal at benefits.ohio.gov, click on "Access my Benefits", then click "Report a Change to my Case" and follow the prompts. Contact your CDJFS at Medicaid.ohio.gov/dropdown, then select your county from the dropdown for contact information. Check your mail and respond to renewal packets. If members don't respond, they risk losing their Medicaid coverage. Renewal packets can be completed online at benefits.ohio.gov, in-person, by mail to their CDJFS, or by phone at 1-844-640-6446. If the due date has passed, still send/complete online your renewal packet. You have 90 days to re-enroll without needing to submit a new application. ODM has put together the ODM Toolkit - Resuming Routine Eligibility Operations to assist with the renewal packet process for families. Full link for ODM Toolkit is
https://medicaid.ohio.gov/static/Stakeholders,%20Partners/Unwinding/ODM%20Partner%20Packet
Resuming%20rou tine%20operations vSHARE.pdf.
We had a great week in Careers class! The countdown is on for graduation and we are trying to expose our seniors to as many careers as possible to get them on a successful path for the future. A very special thank you goes out to electrician Kyle Blinn, construction laborers Russen and Rhett Beegle, correctional officer Marissa Searls and Sgt. Hintz from the Army for visiting our classroom!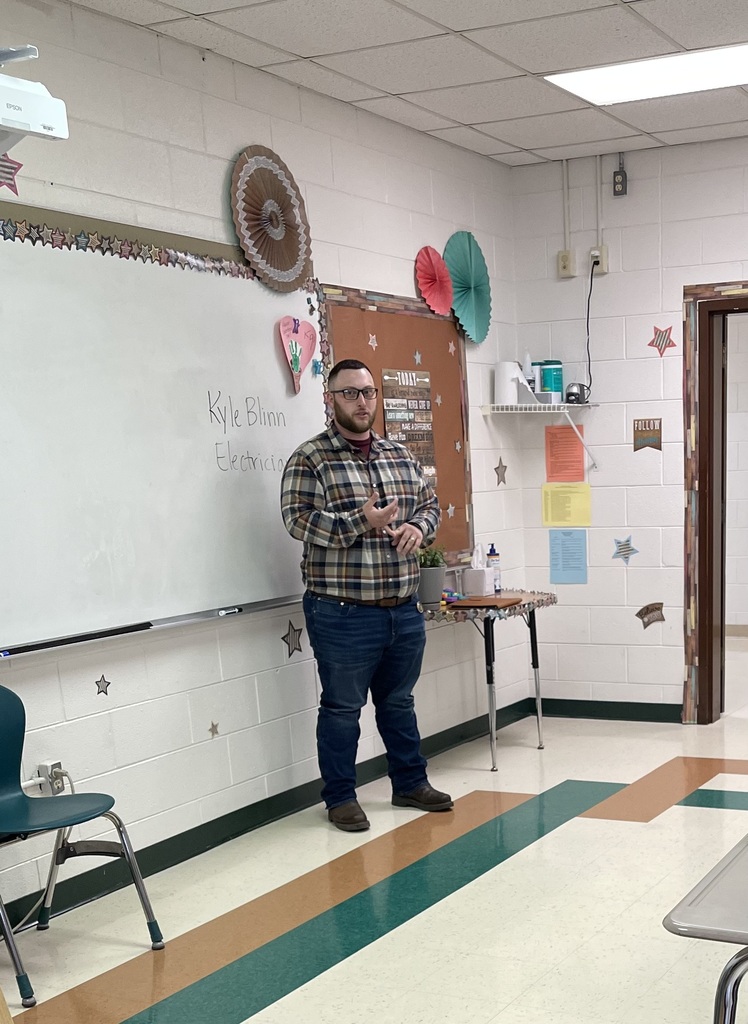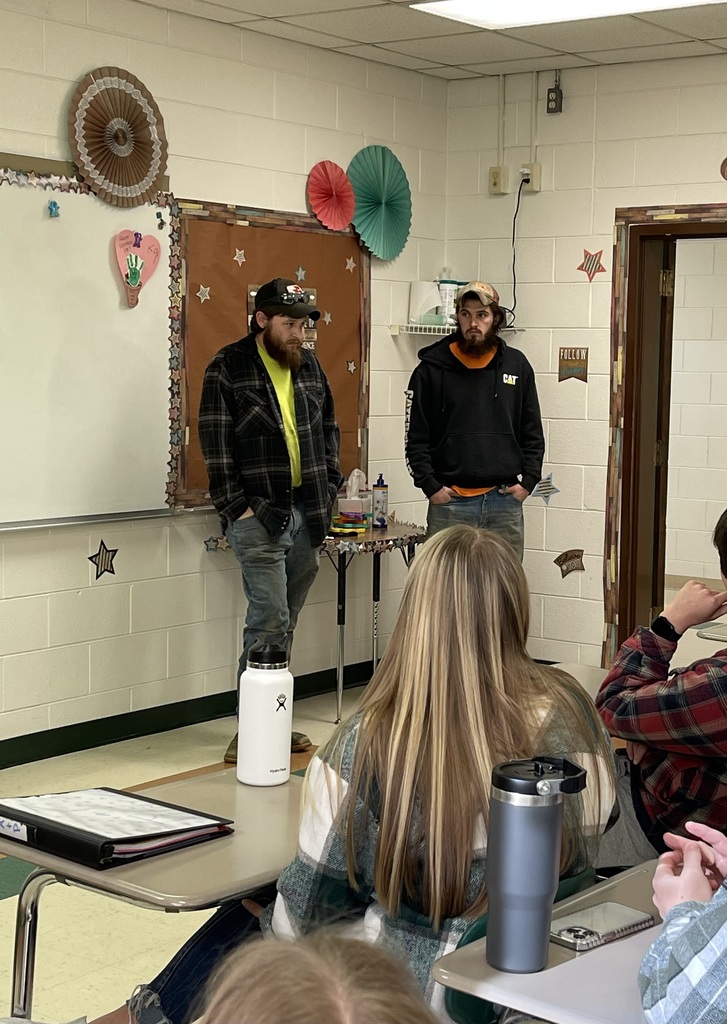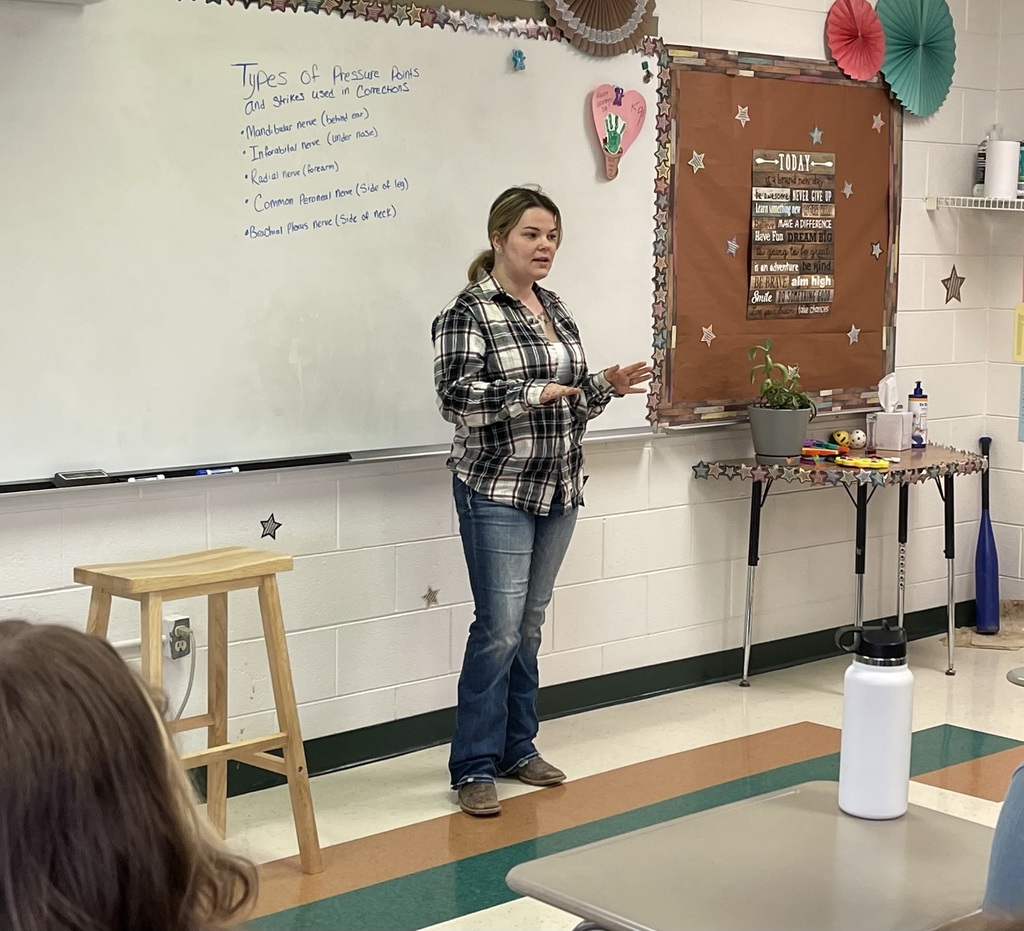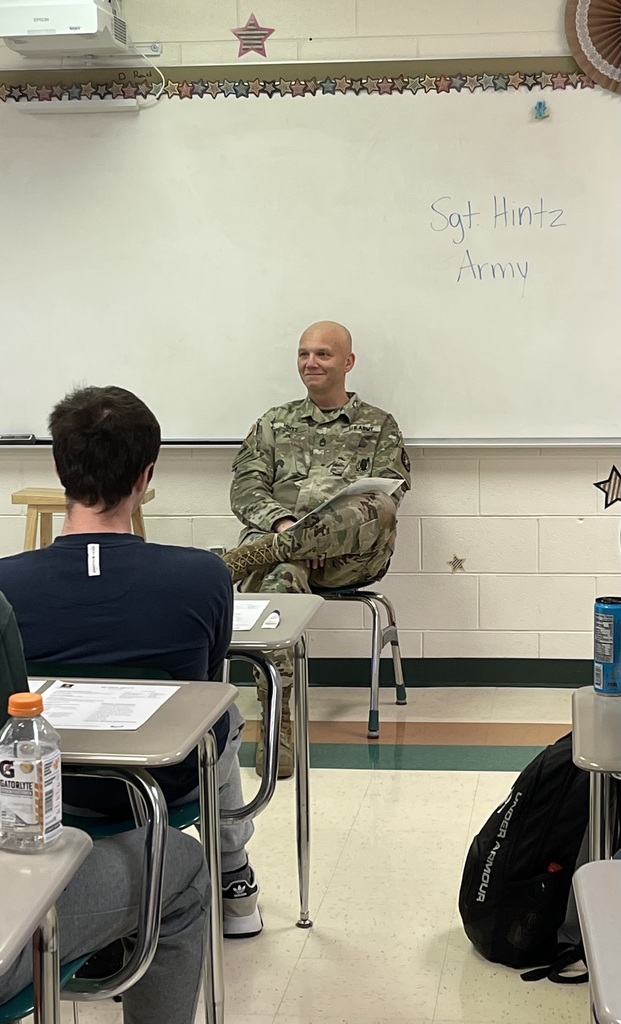 Don't forget spring pictures tomorrow. K-6 students will get individual and class photos taken. 7th and 8th will just have class photos taken. There are extra forms in the office or go to
www.rootsphotoohio.com/contact
For more information
Bus 4, Joe Barnhart's Bus, running 10-15min late this morning.

The Ohio Department of Education (ODE) would like to invite you to participate in a short, 25 question survey about your involvement in your student's education. Research suggests that parental involvement is a key predictor of positive educational outcomes. You may be eligible to participate if your child has an IEP and receives special education services. The purpose of collecting this information is to improve services for students with disabilities across Ohio. If you are eligible to participate and you enroll in the study, you will be entered in a drawing for a $50 gift card. Your chance of winning a gift card is approximately 2.0%. Please use the QR (Quick Response) code (see below) to find out more about the survey and if you are eligible.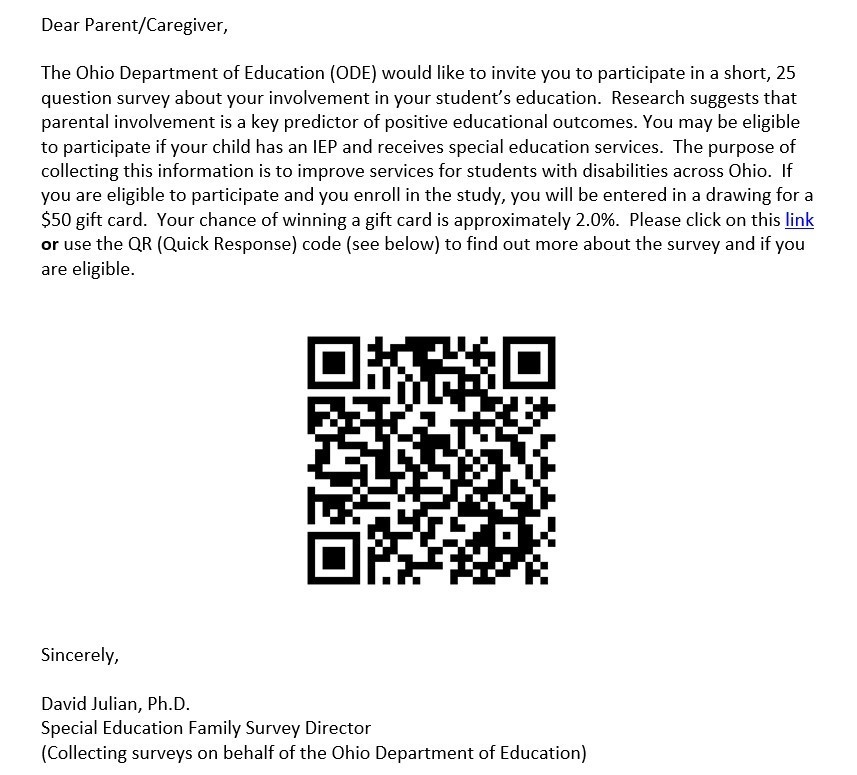 Bus 20 driven by Lee Swain will be approximately 10 minutes late this evening
Salisbury steak, mashed potatoes, green beans, fresh salad and fresh fruit! Conner Knotts asked, "Why would anybody pack?"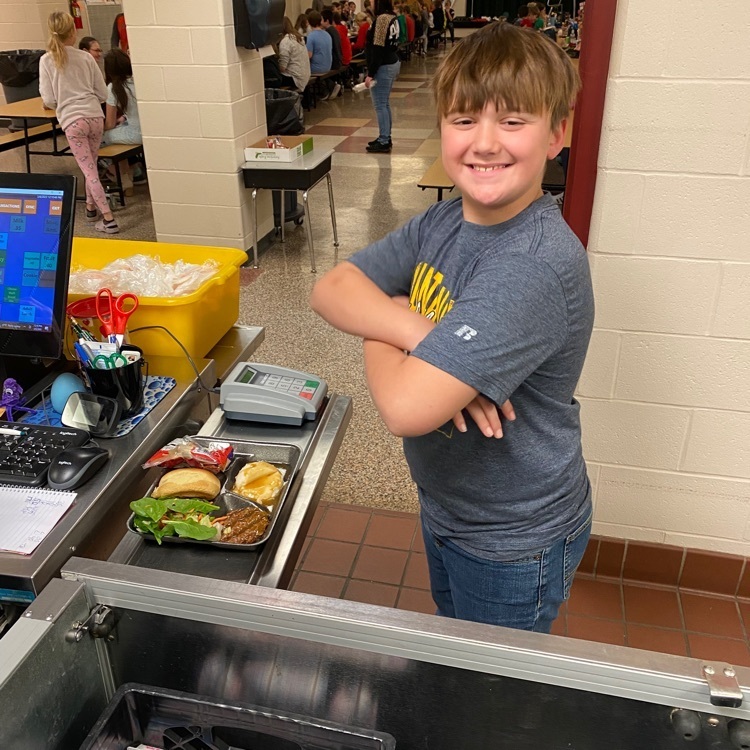 Bus 5- Connie Osborne- will run 10 minutes late this evening.
Bus 21 Mike Taylor, running 10 min late this evening
Bus number for driven by Joe Barnhart will be running approximately 15 minutes late this evening
Bus 23 driven by Raven Clampett will be running approximately 15 minutes late this evening
Bus to driven by Tom Pullins will be running about 15 minutes late this evening
Connie Osborne bus number five will run on time this evening. Please disregard previous notification.

The Eastern Yearbook Club is in need of more photos! We want to pack the yearbook with as many fun memories as we can. If you have any photos of the following winter sports or any other school events, please send them to us at
easternyearbookphotos@gmail.com
. We need photos for the following winter sports: 7th & 8th Grade Girls Basketball, 7th & 8th Grade Boys Basketball, Jr. High/ High School Cheerleading, Freshman/JV Boys Basketball, Varsity Boys Basketball, Varsity Girls Basketball, Archery (all grade levels), and Junior High Wrestling. Also, Elementary parents send us your Valentine's Day party pictures and dance pictures! Any pictures that you can send us are very much appreciated and will help us improve our yearbook for this year. Want to ORDER a yearbook for this school year? Just go to
www.treering.com/validate
. Enter your school code and create an account. Elementary School Code: 1016631756914975 7th & 8th Grade School Code: 1016654257523749 High School Code: 1016631755512733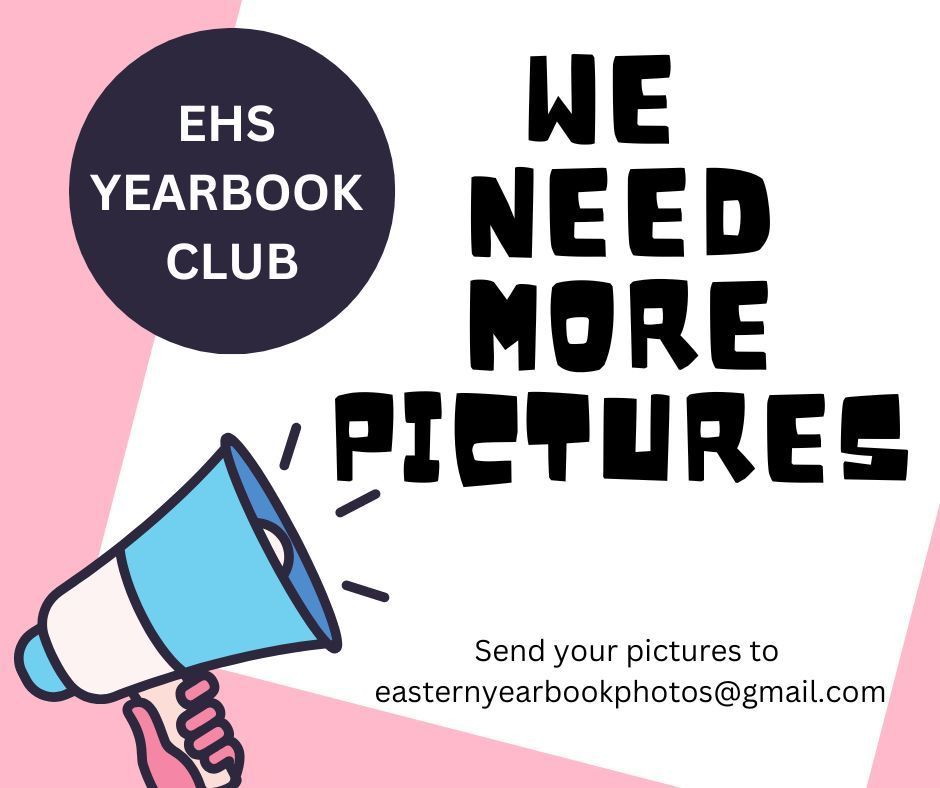 District Finals! Lady Eagles move on to District Finals Saturday at Piketon with win over Paint Valley.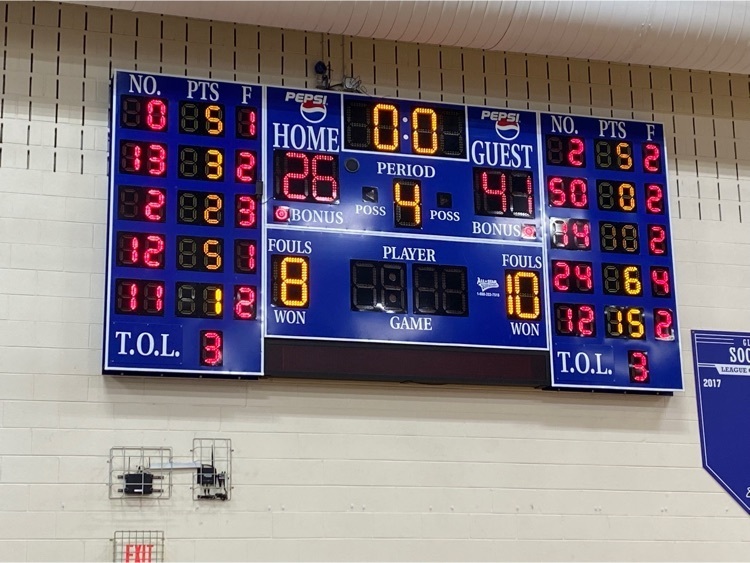 Just as a reminder, the OHSAA ticket window is open for the Reedsville Eastern Girls Basketball Sectional Semi Final @ Southeastern Ross against Paint Valley tomorrow with an 8pm tip off. Go to the attached link below, and search Reedsville Eastern to find our game to purchase.
https://www.ohsaa.org/tickets

Come support the Lady Eagles 🦅 in the District semi final game Thursday evening 8:00 PM tip off vs Bainbridge Paint Valley at Southeastern/Chillicothe.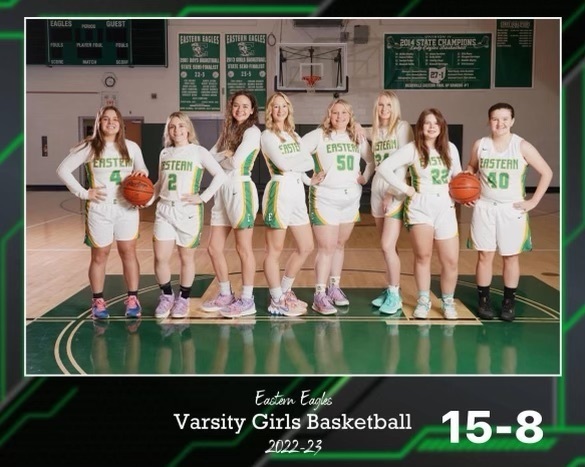 The Eastern Local administration recently found out that our district track meet will likely be moved to May 17th and 19th. Graduation is currently scheduled for the 19th. In trying to ensure that all of our seniors are able to attend graduation and still compete in these events. We are looking at the possibility of moving graduation to Sunday May 21st. We hope to get confirmation on the track meet as soon as possible and make a decision. If you have any questions or concerns about this possible change please reach out to Eastern superintendent Nick Dettwiller. Nick Dettwiller Superintendent Eastern Local School District 740-667-6079
ndettwiller@easternlocal.net
Stronger Together

This is a reminder that Eastern Local Schools will be on a 2 hour early release today, Friday, February 17th for teacher professional development.

Due to high water in some areas overnight, Eastern buses not run some roads this morning. This includes but is not limited to Scout Camp Road.